OK. So I know you all have probably heard of Paper Pumpkin but in case you haven't here it is: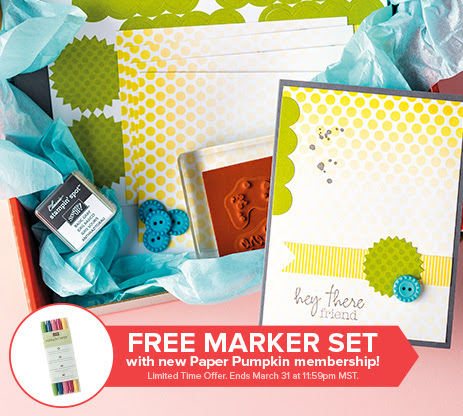 A cute little box filled with crafting supplies that comes once a month with a project designed just for you. All you add is adhesive. The first box comes with a free acrylic block for all the clear mount stamps you will get. Each box comes with a Stampin' spot of ink just for that month's project.
As you can see in the picture, for three more days (until March 31) you can not only get your first Paper Pumpkin next month but also get a FREE set of Stampin' Up! 2012-2014 InColor Markers with your order! That's a great deal!
The best part of Paper Pumpkin is that you can cancel at any time or even skip a month if you want to.
Give it a try! But remember, if you want your free markers you need to order before March 31 at 11:59 mountain time which is 1:59 am on April 1st for Eastern time. Here is the link to the Paper Pumpkin website:
MyPaperPumpkin.com
Remember to enter my name as your demonstrator and you will be ready to go! If you need any help, please don't hesitate to contact me.
Get your FREE markers now!